INDEX || NEWS || INFOS || STAX TODAY || FOCUS || ADS || LIST || LINKS || PHOTOS || E-MAIL
Stax Records Memphis Soul Music Rhythm & Blues Otis Redding Eddie Floyd Booker T. & The MG's
STAX NEWS
page 19
THE CROPPER CLASSIC EVENT REPORT
(November 1st, 2002)
Go to the special Joe Pusateri page with his exclusive report from the inside about the fantastic Cropper Classic event in Memphis at he end of last October, 2002. Just click here.
TOM DOWD DIES
(October 30th, 2002)

Tom Dowd in the Stax studio (3rd from left)
Tom Dowd was a great Atlantic producer who did a lot for Stax, especially in the beginning, tuning up the Stax recording equipment and some years later having it going from mono to stereo. He also produced or helped producing several major recording sessions such as Otis Redding's "Otis Blue" LP. He died in Florida on 27th, October at the age of 77. Recently, Dowd was honored with the National Academy of Recording Arts and Sciences' Lifetime Achievement Award for his career in producing and engineering work, and he was cooperating with South Florida filmmakers for a 75-minute documentary on his life and career.
An interesting link at http://www.thelanguageofmusic.com/


THE CROPPER CLASSIC SHOW
(October 17th, 2002)
The "Cropper Classic" show was held in Memphis. It started of in the Gibson Guitar Center Showcase Lounge then an after party at BB Kings (Oct14) and then the next day on the roof of the Gibson guitar center (Oct 15). The master himself was here as well as Duck Dunn, Eddie Floyd, William Bell and many others. At the Hammond organ, Steve "Sandy" Leigh, former Stax keyboardist after Booker T. left for the east coast in the early 70s and many other. Our man in Memphis, Joe Pusateri, was here of course. See some photos on the Stax Today pages and many others at http://groups.msn.com/SloppyJoezBluesPhotos/cropperclassic.msnw?Page=1.
OTIS' STATUE UNVEILED
(September 24th, 2002)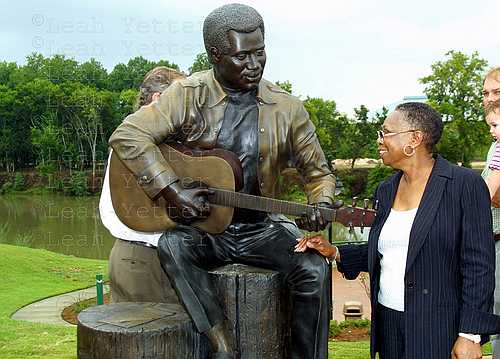 Otis' statue has been at last unveiled in Macon, Georgia, along the Ocmulgee river. Above photo showing Otis' statue and his widow, Zelma Redding, September 15th. This photo and many others are available at http://www.leahyetter.com/otis091502/index.htm.
HAYES' 60TH
(August 27th, 2002)

Looking regal in a cream Moshood silk tunic and matching silk pants, Isaac Hayes held court at his 60th birthday party Saturday night at Isaac Hayes Music Food Passion at Peabody Place. See GoMemphis.com at the above address: http://www.gomemphis.com/mca/entertainment/article/0,1426,MCA_483_1347753,00.html.
SAM MOORE IN PARIS FOR THE NEW YEAR
(August 17th, 2002)
Info from Joyce Moore for his french fans: Sam Moore will be appearing in Paris over the New Years holidays. He's going to be at the Lionel Hampton Jazz Club and at the Club Le Méridien.

THE SATELLITE RECORDS RESTAURANT
(July 27th, 2002)
A wise guy by the name of John Gray has obtained a business license for a place called Satellite Records Restaurant at 925 E. McLemore in Memphis. It's probably the house in front of Stax where the Satellite Record Shop had moved some years before closing (see photo above). It had been on sale for years. See you there in April 2003!
THE STAX MUSIC ACADEMY GRAND OPENING
(July 27th, 2002)

Booker T. Jones, Isaac Hayes and William Bell
I just attended the STAX Music Academy grand opening. Actually I worked the event. I am the AV and acoustics consultant to the architect on that project. Man, Oh Man! what a thrill for me. I got to meet and talk with all my surviving favorites from the STAX family. Some of the artists that I met were Booker T, Cropper, Duck, Isaac Hayes, David Porter, Carla Thomas, Mavis Staples, Eddie Floyd, William Bell, and Maurice White. I know Maurice and Earth Wind and Fire never recorded at STAX but he was the invited guest of David Porter. Other great STAX personnel included Al Bell, Estelle Axton, and the greatest publicist ever, Deanie Parker. I got 'em all to sign my copy of Rob Bowman's book. I just wish I would have had my telecaster down there for Steve Cropper to autograph.
The biggest thrill for me came when I was sitting at the recording console in the Academy and talking with Booker and Maurice when I looked up and Isaac, Steve, Duck and William Bell were looking back through the studio window at us.
Imagine if we could have got them to sing a little. I got to demonstrate the studio I designed to Booker and several others. As it turns out Mr. Booker T. Jones has some of the same equipment in his home studio. We got to discuss the finer points of using digital equipment to make sweet soul music recordings.
I also met Curtis Johnson of the Astors. He took some fine photos as well. He will likely have his pix on his website by now (http://curtisj.com/Stax.htm).
Deanie Parker got Vanity Fair magazine to come out and do a photo shoot and an article for an upcoming issue (October '02 perhaps). They brought the famous photographer, Ann Leibowitz, to take the shots of the group under the Stax marquee and in Studio A.
Kevin Day
July 25th, 2002
GOMEMPHIS.COM
(July 25th, 2002)
Bill Ellis regularly writes news pages about Stax on www.gomemphis.com, some with exclusive photos. See the latest news and great historic articles about what's going on at 926 McLemore Avenue by following these very recent links and don't forget to watch regularly the site as many things are happening at the moment.
www.gomemphis.com/mca/todays_editorial/article/0,1426,MCA_537_1284859,00.html
www.gomemphis.com/mca/local_news/article/0,1426,MCA_437_1285735,00.html
www.gomemphis.com/mca/pop_music/article/0,1426,MCA_510_1282635,00.html
INDEX || NEWS || INFOS || STAX TODAY || FOCUS || ADS || LIST || LINKS || PHOTOS || E-MAIL