INDEX -- NEWS -- INFOS -- STAX TODAY -- FOCUS -- ADS -- LISTS -- LINKS -- PHOTOS -- CONTACT
STAX NEWS
page 36
AN OTIS REDDING 45's VOLT BOX SET
(March 30, 2013)
A 3 CD box set including all Otis Redding 45's published on Volt is scheduled to release by Shout on Tuesday, July 23, 2013.

ALBERT KING'S BORN UNDER A BAD SIGN LP
REISSUED AGAIN ON CD WITH BONUS TRACKS
(February 28, 2013)
Born Under A Bad Sign / Crosscut Saw / Kansas City / Oh, Pretty Woman / Down Don't Bother Me / The Hunter / I Almost Lost My Mind / Personal Manager / Laundromat Blues / As The Years Go Passing By / The Very Thought Of You. Bonus tracks: Born Under a Bad Sign (alternate track) / Crosscut Saw (alternate) / The Hunter (alternate) / Personal Manager (alternate) / Untitled Instrumental.
To be reissued on April 2, 2013. Albert King will be posthumously inducted into the Rock & Roll Hall of Fame next April 18.
LONELY & BLUE CD OR LP BY OTIS REDDING
February 27, 2013)
1. I Love You More Than Words Can Say / 2. Gone Again / 3. Free Me / 4. Open The Door / 5. A Waste Of Time / 6. These Arms Of Mine // 7. I've Been Loving You Too Long / 8. Everybody Makes A Mistake / 9. Little Ol' Me / 10. I've Got Dreams To Remember / 11. Send Me Some Lovin' / 12. My Lover's Prayer.
A Nth compilation with some little known tracks already available on CD and even two alternates: Open The Door and I've Got Dreams To Remember from the Remember Me CD. Only a new fact: it is also issued as a vinyl LP like in the good old times.
A STAX PHOTOS BOOK BY API PHOTOGRAPHERS DUE SOON
(January 7, 2013)

Bill Carrier Jr. shot a lot of photos at Stax and about Stax during the 60's, being located in Memphis as "API photographers". His son, Bill Carrier III is preparing a book which will be available on subscription, including the best photos, some very rare and captivating. See some examples here: http://www.indiegogo.com/blackwhite. The book will be a 10x17 coffee table book with 168 pages of Stax images from 1965 to 1969 showcasing Stax artists including a 14 hit CD.
More later...
WE'RE THE SOUL GIRLS
JEANNE & THE DARLINGS / THE CHARMELS
(July 2, 2012 )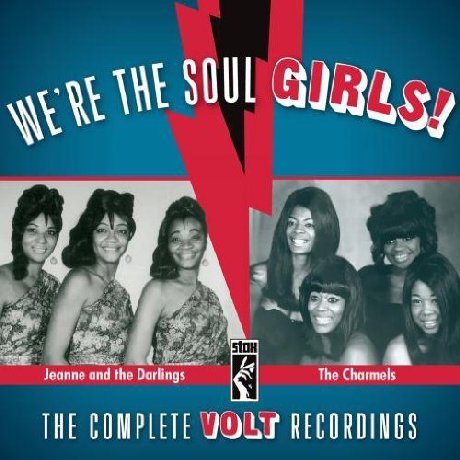 How Can You Mistreat The One You Love / That Man Of Mine / Soul Girl / What's Gonna Happen To Me / Hang Me Now / What Will Later On Be Like / It's Unbelievable (How You Control My Soul) / I Like What You're Doing To Me / It's Time To Pay (For The Fun We've Had) / Standing In The Need Of Your Love / Singing About Love / Let Them See In Me / I'm In Love With You / Changes // Something Sweet About My Baby / Please Uncle Sam (Send Back My Man) / Loving Material / I'll Gladly Take You Back / As Long As I've Got You / Baby Come And Get It / Sea Shell/ You've Lost That Lovin' Feeling / Baby Hurry / Someone Made You For Me / Peace Maker / Oo-Oh A-A-A-H / I've Done It Again / Let's Exchange Hearts / A Tisket, A Tasket.
Ace Records (UK) continue to work on the Stax reissues and many good surprises are expected in the next months, as this gem which releases the complete Jeanne & The Darlings and The Charmels tracks recorded at Stax (under the Volt label) even the rare and unissued ones.These two girls groups (The Charmels first named The Tonettes) did wonderful songs, especially all those produced by Isaac Hayes and David Porter. It was Stax at its best and they even did many sessions as session chorus girls.
Ace really combed the vaults and took care to issue the stereo versions when available. The CD will be available at the end of July. A great thank you to Ace and keep on the good work.
HOT SAUCE
FEATURING RHONDA WASHINGTON
(July 2, 2012 )
Good Woman Turning Bad / I Can't Let You Go / Bring It Home (And Give It To Me) / What DoYou See In Her? / Love Strike / Stop Dogging Me / I'll Kill A Brick (About My Man) / Mama's Baby (Daddy's Maybe) / Funny / I Can't Win For Losing / Echoes From The Past.
The complete recordings of Detroit-based, Memphis-recorded act Hot Sauce, who came to Stax in 1971 and sadly released the last-ever single on Volt in 1975. Hot Sauce only had two modest R&B chart hits thanks to the soulful singing of Chuck Berry's niece Rhonda Washington. The tracks were recorded at Willie Michell's Royal and sweetened in Detroit. Hot Sauce was scheduled to have an album released in 1974 but the project was cancelled as Stax slid into bankruptcy. Using the original production master, Ace have resurrected the planned album's running order and augmented it with various single-only sides to present the small but mighty catalogue of Hot Sauce on CD for the first time.
INDEX -- NEWS -- INFOS -- STAX TODAY -- FOCUS -- ADS -- LISTS -- LINKS -- PHOTOS -- CONTACT