INDEX -- NEWS -- INFOS -- STAX TODAY -- FOCUS -- ADS -- LISTS -- LINKS -- PHOTOS -- CONTACT
AL JACKSON Jr. +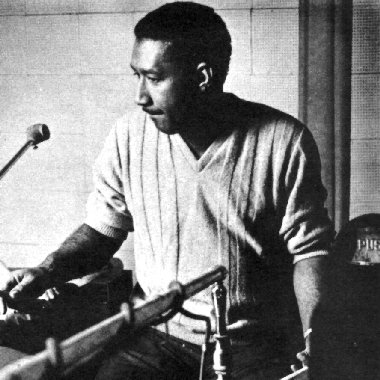 AL JACKSON BIO
Born November 27, 1935, Memphis, Tennessee Died October 1, 1975, Memphis, Tennessee.
In the 1960s, when the term "soul" music was born, much of the attention focused on the South, home of its gospel and R&B roots. In Memphis, the Stax studio house band, Booker T. & the MGs (short for "Memphis Group," not the car), featuring Al Jackson, Jr. on drums, churned out hits like "Green Onions" (1962 - #1 R&B, #3 Pop) and Rufus Thomas's "Walkin' the Dog" (1963 - #5 R&B, #10 Pop). Wilson Pickett's "In the Midnight Hour" (#1 R&B, #21 Pop), recorded at Stax in 1965, broke the scene wide open.
I met Al Jackson when I visited Stax in 1969. He was very congenial and friendly as he arrived for the day's session. His drumset was situated on a riser which was leveled off to compensate for the slanted floor of the old movie theater which served as the Stax studio. It was a very simple set with, I believe, a 20-inch bass drum, one rack tom, one floor tom and two small cymbals-the largest was about 18-inches and very dead sounding. A grand piano, a Hammond B-3 organ, guitar and bass amps were spread out fairly close to the drum set with some temporary baffles set up for the horns. Just two microphones were in place for the drums. The control room was situated on the old stage, enclosed behind a wall with the usual soundproof glass window. Mixing was done on Seeburg jukebox speakers; the gold ones that stood about 3 feet high and included horns on the top.
Songwriters Isaac Hayes, David Porter and Homer Banks all had small rooms near the front of the theater, usually with an upright piano, and they were constantly writing and trying out new ideas. When Al sat down to warm up he played some very fast rolls and fills, and I realized that what he played on records was just the tip of the iceberg.
As the following selected discography shows, Memphis born Al Jackson, Jr. became one of the most important and influential drummers of the entire soul era. He played on all of the classic soul hits that came out of the Stax studios - hits by artists such as Otis Redding, Sam & Dave, Eddie Floyd, Wilson Pickett and many more.
In the '70s, before his death, he was responsible for the drumming and part of the songwriting on most of Al Green's greatest hits, recorded at Willie Mitchell's Hi Studio on the other side of town.
Al was the son of big band leader Al Jackson, Sr. He began playing drums on stage with his father's band at the age of five. After playing with Willie Mitchell's band, he was recruited by Booker T. Jones in 1962 to play his first session at Stax.
As guitarist Steve Cropper relates in the following interview, "It didn't take but about one or two sessions for everybody to realize the potential of Al Jackson and how good he was." Al was a few years older than the other members of the Stax session team Steve Cropper (guitar), Duck Dunn (bass, who replaced Lewis Steinberg) and Booker T. Jones (keyboards, sometimes replaced by Isaac Hayes when schoolwork called). The younger players respected his experience and looked up to him. They relied on him to "put a pocket on it," as he called it-find the appropriate groove that would transform a good song into a great song, one that would also become a dance hit. This he did with a regularity that has yet to be surpassed. His style was powerful, groove-oriented and deceptively simple.
Many have imitated his playing but few have captured its strength and feel. For the better part of 10 years he came to work everyday cranking out solid, creative grooves. His drumming became easily recognizable and an integral part of '60s and '70s soul.
Al Jackson was tragically murdered in 1975, at age 39. His long time partner at Stax, Steve Cropper, graciously consented to do the following interview about Al so that the public can learn more about the life and spirit of this great drummer.
STEVE CROPPER TALKING OF AL JACKSON JR.

I don't really remember exactly what day or what session that I met Al Jackson. I saw Al way before I got to meet Al. Al was playing with Willie Mitchell's band at a place called the Manhattan Club. That was one of those places where the band started at ten and got off stage at four in the morning. I had suggested along with several other people that Al Jackson would probably be the drummer for Stax because Willie Mitchell played a lot of dance music.
The Manhattan Club was basically a white club where people liked to go to dance, and in those days, in the late '50s early 60s, they liked to dance to rhythm & blues, which is what my band did [The Royal Spades]. Any chance we got to hear Willie Mitchell's band or Ben Branch's band or any of those big R&B bands, we'd kill for the opportunity. We used to sneak across the bridge and listen to black bands over in Arkansas, too. They would let us in because they didn't worry so much about their liquor license. In Memphis it was a little bit trickier.
I was told that Al Jackson started playing on stage with his father's band. His father had a very, very large jazz dance band back in the '40s, and Al played with him when he was five years old! That would have been in 1940, so he had all of that experience. Al Jackson begins working at Stax: I wish I could find a way to document Al Jackson's first session at Stax. It may have been Prince Conley's "I'm Goin' Home," or that may have been Howard Grimes, another Memphis drummer. Howard Grimes played on William Bell's "You Don't Miss Your Water" and a bunch of other stuff. I can almost guarantee that that was Howard Grimes because of that big splash cymbal and the way he played that.
The first one that Al Jackson played on could have been a Carla Thomas song called "Cause I Love You" which was the same one that Booker T. came in and played baritone sax on. I was not on that session. I was in college or off doing something when they cut that. During school season, of course, I had to go to school. I played with the Mar-Keys at night. Al was about four or five years older than the rest of us. It didn't take but about one or two sessions for everybody to realize the potential of Al Jackson and how good he was-and when I say everybody, I mean the people that called the shots around there, mainly, Jim Stewart, who controlled the company with Estelle Axton. Jim said, "This is the drummer we need." As far as I can remember there was never a falling out with any of the other drummers that we had used. We all loved Howard Grimes and we still love him today, but Al Jackson just had more expertise in playing sessions. He was more well-rounded. Howard was a very young guy. He was trying to learn. He was good, but he was still learning. He knew how good Al Jackson was. When he found out we were trying to get Al on a regular basis, he might have been concerned but he wasn't upset, because he knew that's the way it had to be. The biggest problem was trying to get Al to come over, because Al had been playing with Willie Mitchell at Hi Recording Studio, and there was a lot of loyalty towards Willie. It was a big move for him to say, "Okay, I'm gonna quit Willie's band, I'm not gonna play at night any more, and I'm just gonna come over there and pick up a check and play sessions every day." On overworking: We could not really convince him of that, so for a while he did both things, which was very difficult for everyone, because he did not get home till four or five o'clock in the morning after playing with Willie's band, and we couldn't wake him up.
We'd have these sessions booked at Stax and everybody'd be waiting on Al Jackson. He wouldn't show and I'd say, "Oh, oh, he's overslept." I'd jump in the car and head over there. I was about the only guy he'd trust to allow to come over there to wake him up. He knew if I came, then it was serious, and he was probably missing out on some money or something. Al was a real heavy sleeper, and Al was one of those sleepers that came up fighting. You didn't go over to Al and tap him on the back and say, "Al, it's time to get up." If you did, you probably wouldn't wake up till about noon! I used to go in his bedroom. His wife would let me go in there and poke him with a broom handle so I could get him up. And that's a true story. It would take a while, but I'd say, "Al, man, the session is gonna start in ten minutes." Those were really the good times. On Al Green: Everybody was on a roll by the time Al Green came around. Actually, we missed signing Al Green by lessthan five minutes. Al Bell [Stax promotion head who became label president] had listened to a tape of Al Green and said, "Man, this is the guy!" He called back and Al Green had just left to go sign a deal with Willie Mitchell at Hi Records. We came that close to having him. Al Jackson would go to Hi at night sometimes. That was after he finally quit doing gigs. After a while Al realized the potential of steady income, which was better than playing all night long for very little money. And once we got Booker T. & the MGs rolling with royalties coming in and all that, he started devoting full time to producing, writing and playing drums for Stax. Out of loyalty to Willie he would still go over and play on hits at Hi. Howard Grimes played on most of those records but on the singles, like "Let's Stay Together," it was usually Al Jackson. Willie knew the difference between a song that would be a filler for an album and one that was a really hot song. When they knew that, they'd call Al Jackson to come play on it.
Al was the guy who played that tom tom on the backbeats that everybody used to copy. In those days Al didn't change heads and we didn't have techs. We'd get on a gig, he'd bust a snare head and just play the rest of the night on the small tom. It didn't have any snares going for it but it was a large backbeat-a big crack. He would hit the rim and the head at the same time. He was the best drummer I ever worked with at reading a crowd and knowing what their mood was. When we played live with the MGs he could just tell by one song. When a bunch of couples would jump up on the dance floor, he'd go, "Ah, now I know what to play next when this song's over." Al could really get you in a groove. The way he played shuffles used to impress me. Other guys seemed to kinda have it but not quite. Al Jackson had it down so good, it just rocked the whole house. Other guys would have this ta tat, ta tat, but Al had this goon, che ga, che goon, che ga. It was a whole different approach, technically, the way he played it. He never shuffled the ride cymbal. Some guys shuffle their whole body-their hands would be shuffling and their feet would be shuffling. Al had a way of putting the shuffle feel on the kick drum while playing the ride cymbal straight. The kick drum would do something that complemented the shuffle on the snare but didn't go with it, and neither did the ride cymbal. Technically speaking, part of that idea is in the beat to "Green Onions." The ride cymbal is playing straight fours, the kick is going doom, doom, da, doom, doom. It's sort of a half shuffle thing in the foot. I'll sit in with a band and they'll say, "Cropper's here. Cropper come up and play `Green Onions,' we play that song every night." And I get up there and the drummer's doing a straight shuffle and I say, "What are you doin'? That's not `Green Onions.' Did you listen to the record?" And the organ player is doubling the bass line. We already had the bass and the guitar doing that. They don't learn Booker's part and they don't learn Al's part, but they got Duck and my part down big.
Al's contribution in the studio: Everybody sort of pinned on Al. As writers and producers we all had our ideas, and we all woke up in the morning knowing what we wanted to hear that day. We'd have a few arguments about it sometimes, but when it all came down, we usually keyed on what Al thought. I remember something with Sam & Dave's "Hold On I'm Comin'." It was a good song with a good lyric and all that, but we worked on that thing for about three hours, and just as we were about to say, "Well guys, we better try this again tomorrow," Al looked at me and I looked at him and he said, "Let's go out there and put a pocket on this thing." That was his phrase, "Let's put a pocket on it." So we went out there by ourselves and sat down and basically came up with a new feel-that kind of funky thing in the chorus. And they came out and said, "That's it! That's it!" Two or three takes later, you had your record. We used to do that a lot. He contributed a bunch to the way things turned out. A lot of the writers had great songs and great melodies, but they didn't know what pocket to put them in to really make good dance records. It usually took Al to do that. But he wasn't that stubborn. He would let guys try whatever the hell they wanted to try and then, when they wore it out, he would say, "Hey, wait a minute, you're not gonna keep me here all day doing this. Let's do it this way." And usually that's what would turn out to be the hit.
On the Stax sound: A lot of the drum sound was, I think, accidental. You know, bring the drums in and put a mike on 'em. Move the mike around till it sounds good. What a lot of people probably don't understand is that the drums Al played, stayed there 24 hours a day, 365 days a year with the same microphones on them. It was that way for a long time, when we were cutting all the mono records, "Green Onions," the Rufus Thomas stuff and all of that. Once they were there, it never changed, they never moved around any. Later, when we got into multi-track machines and overdubbing, some things changed. The other thing is that Al Jackson never changed his heads, unless he broke one. The same thing with the bass and guitar. If we broke a string we changed it, if we didn't, it never got changed. Al never changed those drums. I think he had a Ludwig and Rogers combination, kind of a mix 'n' match. He had a medium size kick drum, 20-inch I believe, and he had a Rogers floor tom, grey pearl, and then a little 12-inch tom over head. It was a little black drum. The other thing that Al used to do that was different-he wasn't the only drummer that ever did it- but when he came down to do a session, the first thing he did was reach in his back pocket, and pull out this big fat billfold and plop it on the snare. Other guys used tape or a muffler. Al just plopped a billfold down there. The old records didn't have a lot of decay time, the snares didn't ring too much and there's not a lot of cymbals, because we didn't mike the cymbals. Where were the mikes placed? We had an RCA capsule mike, a 44 or a 77, that looked like a big Tylenol. We had one of those on a small stand and we just brought it right straight up under the hi-hat, as high as we could to still be comfortable. It was a ribbon mike and it picked up everything around it and got the snare and the hi-hat. Then we had the old, big, black and chrome RCA microphone. It had big holes in it and they used them back in the old days in the radio shows. Sort of a giant shaver microphone about four inches wide. We used that for a long time on the kick drum. That's all we had, two mikes. Was there a front head on the kick drum? Yes, there was. Way later, when Ronnie Capone and some of those guys came over we may have taken it off. They grew up doing jingles and they turned us on to some new techniques. We had two Ampex mixers. We had eight channels but one of them we used as an echo return, so we only had seven to cut all those songs with. Two mikes on the drums, one on the vocal, one on the horns, one on the bass, one on the guitar and one on the piano.
The studio was a theater, as you know, and we used one of the tile bathrooms for the echo. The ceiling was 12 to 13 feet high near the box office entrance and went up to 20-something feet down near the front of the stage where the instruments were set up. The floor was slanted but it started levelling off about half way down, right about where we had the drum riser. I know that Al had a lot to do with the Albert King stuff. Yes. He had a better rapport with Albert than the rest of us. Albert didn't like anybody, really. Al was the designated producer for Albert King. I was the producer with Otis Redding and Eddie Floyd and somebody else had Carla Thomas and I think Al had the Mad Lads and Albert King. Isaac Hayes and David Porter had Sam & Dave and the Soul Children.
Drum rhythm concepts: I remember two songs that I thought had the most creative drum beats that were also very simple, and one of them came out of a thing he was trying to teach me. He took time to show me a couple of little things and how to go from the snare to the tom. I sat there once and kind of half put this beat together that Al later took-bop, un, chic, un, boom, boom bop, un, chic, un, bop, bop. That became "Soul Dressing" by Booker T. & the MGs. The other beat, probably one of the funkiest I ever heard, was the one Al used on "Crosscut Saw" by Albert King. It was kind of like a Latin thing with cross sticks.
What about "Try A Little Tenderness" by Otis Redding? The doubling of the beat? Yeah, that kind of took everybody by storm. As far as I remember, that wasn't worked up. Al just started doing that and everybody said, "Yeah, Al. Yeah!" and fell right in. That's how creative he was. I don't think that was the only take of that. We did it for a while till we got it. We had to work a lot on that end, all those kicks. On Otis Redding's album "Live At The Fillmore West," that's Al playing drums with Otis's band. We flew Al out there to kind of oversee that. Of course it was Al on all the Stax/Volt Tour stuff from 1967, "Live In Paris" and all of that. We only went out behind Otis for that one tour, which was about 12 or 15 dates over a period of 20 days-it seemed like a year. The only other thing we did was the Monterey Pop Festival. We didn't do any local shows, we didn't fly anywhere, we didn't even do any TV shows with Otis. He wanted us but we were too busy in the studio. There was no way he could get us. That's why the Bar-Kays started going out with him. He decided after that Stax/Volt tour and Monterey that he had to have a Stax band, because that was his sound. I guess he had arm wrestled with a bunch of different musicians, even though he probably had some great ones. I didn't really get to hear too many of his shows. I played with him live in the studio. He brought his band in one time in a bus and put them up at the Holiday Inn while we cut for two or three days. We didn't use any of his guys. He just had them hanging on because they were still on tour. We needed a couple more songs to finish his album, so they came through Memphis. Al grew up in his Dad's swing band. He had all those jazz chops in him. I mean, he was the greatest single stroke player I ever heard in my life. He was great at that. And he did that a lot on the snare. He could do that in his sleep. He didn't do it a lot, but he'd just throw something in there every now and then and you'd go, "Wow!" Or he'd do some little tom thing that would come out of nowhere. Al had that thing of just touching the ride cymbal, just hitting it like a half shuffle, with a loose wrist kind of fanning it back and forth. I don't ever see drummers do that any more. He didn't record a lot of stuff like that but he had all those chops. He could cut all the riffs with the horns, too. He could have been anybody's drummer. And he wasn't impressed by a lot of other drummers. They didn't do it for him. He was so economical and so tasteful. Al Jackson went for the meat of the groove. He knew how to study that song, and he could do it very quickly. He hated to rehearse on something, too, which used to wear us out, because we felt like we really needed a drummer to find the groove so we could be creative. But Al would say, "Yeah, y'all work it up and then I'll come in there." We'd say, "Man, we need a drummer!" [laughs] Basically, we'd just sit in there and learn changes and then, when Al got there, we'd start trying to arrange it a little bit.
It's a sad thing but what do you know about his death? (Oct. 1, 1975, aged 39.) We had basically retired the band from around the late '70s. We hadn't really done anything since we opened for Creedence Clearwater Revival on a tour and did the "Melting Pot" album in 1971. After that, Al and Duck got a couple of guys in Memphis, Bobby Manuel and Carson Whitsett, to replace Booker and me, and Al and Duck tried to make a record. There's one out there called "The MGs" with their pictures on it. It didn't do anything. Anyway, I had moved out to Los Angeles and so had Booker. After a while we talked Al and Duck into coming out to have a meeting-they used to come out there and do some sessions, too. They played on some Bill Withers stuff and other things. So, we had this meeting and we said, "Okay, guys, we're gonna get this back together, but let's don't jump right into it, let's really concentrate on it. Let's give everybody three months to wrap up all of their productions, and we'll devote three years to Booker T. & the MGs. We'll start touring again, make records, get visible and really try to do it." Right after that is when Al got murdered. I can't document it. I only know what I've been told and maybe someone else could dispute it, but I know that Al was supposed to be out of town. I think he was getting ready to go to Detroit to produce a session on Major Lance. He was headed for the airport and he was listening to the radio when one of the disc jockeys said, "Hey, don't forget about the Muhammad Ali fight, tonight." So he did a U-turn, called the people in Detroit and said, "Hey, I forgot about that fight. I'll come up there tomorrow." He wanted to stay in town and go down to the Auditorium to watch the fight on the big screen. When it was over he went home and found people in his house. I was told by a guy who was on the investigating team that the guy who shot Al knew somebody who was over at Al's house. He had robbed a bank in Florida, called somebody and said, "Meet me over at Al Jackson's house." When the police got there, they found Al dead on the floor, face down. He had been shot at close range in the back. Everyone else was tied up. His wife, Barbara, had worked herself loose by around three o'clock in the morning. Somebody who was going to work early, or maybe a cab driver or someone, saw her out in the middle of the street, screaming "Help!" The rest is history. The guy who shot Al was killed in a bank robbery in Seattle three days later. They traced his route from Florida all the way through Memphis and up into Washington. An FBI agent wasted him.
Go to Black Music special article on Al Jackson Jr. from September 1977
See also www.funkydrummer.com/JPpages/ajbio.html
---
INDEX -- NEWS -- INFOS -- STAX TODAY -- FOCUS -- ADS -- LISTS -- LINKS -- PHOTOS -- CONTACT